About Us
Ashley has been trained and certified with the very best in eyelash extensions, electrolysis and laser hair removal. Xtreme Lashes and Alma lasers are world renowned, leader in industry standards and absolute luxury in their products and services. Upon completion and receiving her Diploma for the Electrolysis program at Caruso International school of Electrolysis. Ashley is proud to offer this excellent service of permanent hair removal to complement laser hair removal or a stand-alone service.
Being able to treat a wide verity of clients is important to Ashley as we all have different needs, wants and looks making each service available custom tailored for every client that walks through the door.
"My mission is to help you look and feel your best whether it be enhancing your natural look or providing you with your hair removal needs. Experience relaxing, beautiful and effective treatments at Custom Lash and Laser."
-Ashley
---
Laser Hair Removal
eXtreme Lashes Certified Lash Stylist
---
Lash Master Xtreme Lashes
Russian Volume Eyelash excellence
---
Lash Lift Sugarlash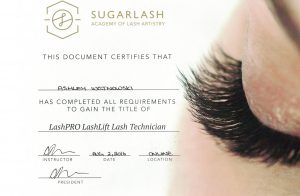 Waxing Beauty institute
---
WALAD
Proud member of WALAD (World Association of Lash and Development) for continuing education and keeping up to date with the Lash industry.