Products
Length and Volume Mascara – $30
New, fuller-designed brush coats and thickens each lash from base to tip, achieving ultimate length and volume. The same great, color-rich formula you love delivers extreme definition and separation without clumps, flakes, or smudges – and removes easily with Xtreme Lashes® Eye Makeup Remover.
Formulated for eyelash extensions and natural eyelashes.
Ideal for sensitive eyes and contact lens safe.
Extreme definition, length and volume.
Vitamin B5-enriched conditioning formula.
Long lasting, water-based formula removes easily with Aloe-based Xtreme Lashes® Eye Makeup Remover
---
GrandeLash Mascara (Lash Boosting Mascara) – $35
Create more Volumized, extended, lifted lashes with a Wide-eye effect Flirtatious lash fringe for a bold Curved and clump-free finish. Precise and separation of the corner and bottom lashes to create Instant extreme volume & length. Give your lashes the extra care they need with GrandeLash-MD serum infused into this lash boosting mascara!
Research results*:
97% reported dramatic lash length
94% reported dramatic lash volume
94% reported healthier looking lashes
94% reported the formula to be clump-free
*Based off of a 12 week GrandeMASCARA consumer perception study.
---
Amplifeye Advanced – Lash & Brow growth serum – $110
Combat the appearance of thin and aging lashes and brows with Amplifeye® Advanced Lash & Brow Fortifier. This powerful serum is enhanced with a maximum concentration of proven vitamins, nutrient-rich botanical extracts, and our exclusive Amplifeye Renewal Complex™. Amplifeye Advanced delivers dramatic results in a lightweight, tack-free formula. With daily use, lashes and brows appear fuller and look more youthful.
Amino acids are the building blocks of protein, which make up the lash and brow hair fibers. With age, amino acid levels gradually decline, resulting in weak, thin, short, and sparse eyelashes and brows. Amplifeye Advanced Lash & Brow Fortifier contains the highest concentration of amino acid-rich peptides, which replenish amino acids at the follicle level, to visibly nourish eyelashes and eyebrows.
Hypoallergenic. Fragrance-free and dye-free
Prostaglandin-free and drug-free.
Nourishes natural eyelashes resulting in an ideal foundation for eyelash extension application
Compatible with Xtreme Lashes Semi-Permanent Eyelash Extensions
Individual results may vary. For maximized results, use daily and in combination with Amplifeye Lash, Brow & Hair Formula
---
Eye Makeup Remover and Facial Cleanser – $30 for 120ml or $20 for 15ml
Soothing Aloe Vera Juice-based formula gently cleanses and moisturizes the skin while conditioning the lashes and brows. Coconut-derived cleansing agent removes impurities and makeup while anti-oxidant and vitamin-rich botanical extracts including rosehip, chamomile, eyebright and cucumber calm, refreshes, nourishes and protects for a daily beauty treatment.
· Over 90% natural with no artificial colors, fragrances, dyes, or mineral oil.
· Sulfate-free—won't irritate or strip your skin of natural oils.
· Formulated to be used on eyelash extensions and natural lashes.
· Ideal for all skin types, even sensitive skin.
---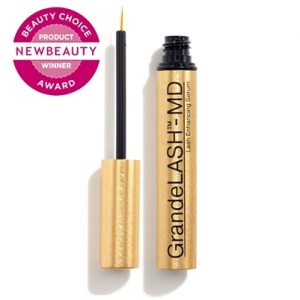 GrandeLASH-MD Lash & Brow growth serum – $110
GrandeLASH-MD is created with a proprietary blend of vitamins, peptides, and amino acids plus conditioning ingredients. Our award winning eyelash enhancing serum promotes a more youthful, healthy and dramatic lash look. GrandeLASH-MD is safe, effective, and results can be seen in as little as 4 weeks (with full results in 3 months)*.
---
GrandeBROW-Fill – $35
a tinted brush-on brow gel. Crafted in Italy Special long-wear formula Evenly coats with a natural tint Infused with fibers and peptides Adheres to even the finest brow hairs. Fill, thicken and keep your brows in place while infusing them with growth serum Comes in light and Dark shades.
---
Long-Lasting Glideliner – $25
An eyelash extension compatible gel eyeliner formulated with long-wear technology, color-rich pigments and ingredients that won't disrupt the adhesive bond. Comes in 12 different colours. Including Xtreme Black and the very popular Rose Gold.
---
Skin Renewing Concealer – $40
Reveal a renewed complexion with an anti-aging concealer formulated to provide a three-part holistic rejuvenation to the skin. With continued use, the look of lines and wrinkles are diminished as skin appears visibly smoother, plumper, firmer, brighter, and more hydrated.
---
Long Lasting Brow Pen – $40 (Includes Brow Brush)
Achieve flawless, sculpted brows with ease and confidence! This innovative formula fills sparse areas, evenly tints each hair, and disguises grays for a natural, youthful appearance. The soft-tipped pen allows for an effortless application without any waxy buildup or powder residue.
Insider Tips: Deep is a universal brown that suits cool blondes, light brown to deep brown or black hair. Product should be applied to brows that are clean, dry, free of skincare, and following face makeup/powder application.
---
Lash Densifying Liquid Eyeliner
Design a unique look with this doubled sided, felt-tip liquid eyeliner enriched with a lash nourishing peptide that is also found in our Amplifeye Advanced Lash & Brow Fortifier. Developed to be compatible with eyelash extensions, this easy to use eyeliner ignites & inspires creativity. Use the Precision Tip to create a thin, precise line and fill in gaps along the lash line for dense look. Use the Style Edge to create the perfect winged line with ease. From day to night, this long-lasting eyeliner provides variety, convenience, and precision in a Classic Black shade that is sure to turn heads.
Peptide-rich formula to nourish natural eyelashes resulting in healthier lashes
Double-sided with a Precision Tip for filling in gaps along the lash line for dense look, and a Style- Edge for creating a more dramatic winged look
Compatible with Xtreme Lashes Eyelashes Extensions and natural eyelashes
Long-lasting, smudge-poof
No flaking
No build-up on lash line
Removes easily with Xtreme Lashes Eye Make Remover & Facial Cleanser
Hypoallergenic and dermatologist tested